Shining Star International School is an inclusive school.
We strongly believe that all kids have the right to equal learning while interacting with their peer groups.
---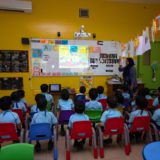 We offer privileges ( front seating, buddy support, concessions for home work & completion etc.) and modifications in class, and exams, papers_ like extra time, scribe, reader, bigger font, etc. depending on the need of every student.
---
We understand that every child is different and our team of specially trained teachers are fully equipped to provide Individualized Educational Plans (IEP) for students of determination.
---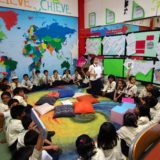 We provide extra support (academic) – teaching them after school hours whenever needed.
---
We develop modified papers during exams based on their level and special needs.
---
Revision worksheets are sent to students prior to exams, to provide extra support and practice.
---
We provide LEARNING SUPPORT ASSISTANTS (LSA) to ensure their safety while at school and for extra academic help.
---
We work on their confidence and social skills by ensuring their participation in morning assemblies, extracurricular activities and other programs in the school.
---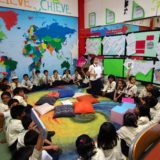 We motivate and encourage them to participate in external events and competitions.
---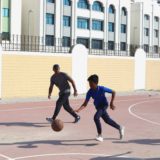 Our Learning Support Team supervises all the activities conducted in the school to ensure that each child enjoys the learning and extra-curricular activities offered to them.
Additional Facilities
---
Private Sports Coach
Shining Star School respects its athletes. We understand that every child has their own special ability and that many of them have the potential to become top performing athletes. We work with top rated coaches across various disciplines. Be it cricket, football, kabaddi, kho kho or basketball, our professional coaches will nurture your child till they become the best they can be.
Modernized Labs
We have built labs which are equipped with the latest technologies and tools to help the kids use their skills or visualizations to create something extraordinary. We believe, every mind has a special power and it only needs to be discovered.
Fully Equipped Classrooms
Our team believes that classrooms shouldn't be boring at all. Studying inside a dull room doesn't enhance the mind rather dulls them. While keeping that in mind, we have placed smart boards in all of the classrooms and made sure they are well lit and not dull. We have made a perfect environment for the students to study and grow.