Model United Nations
To give students hand-on learning in international relations and diplomacy Model United Nations is launched at the campus
Bring Your Own Device
To improve engagement, ownership of learning and knowledge retention along with encouraging independent learning. BYOD to be introduced in the school.
Farm in School
Farm-in-school is one way to get students excited about healthy eating. Keeping in line with Sustainable development Goals and UAE vision of developing Sustainable societies, we have initiated a school farm to teach students to grow vegetables, learn about organic food and appreciate nature through a fun and experiential learning.
Global Classrooms
Global Classrooms brings established schools from around the world to make your child's learning experience worthy of being called an "international" education and preparing them with the skills they need to flourish in today's world.
Swimming Pool 
At Shining Star, we believe that healthy mind lives in a healthy body. We have taken this initiative one step further. We are in a process of introducing swimming pool in our school.
Microsoft School
Today is the world of design thinking and problem-solving, Technology plays decisive role in developing those skills. As a result SSIS has introduced Microsoft Innovative Educator program at school and pledges to be fully functional  Microsoft school by 2021.
SSIS has joined this initiative to do their part to save the planet. We started with goal 3, Good Health and Well Being and Goal 4, Quality Education. Shining stars created the poster to spread the awareness related to it.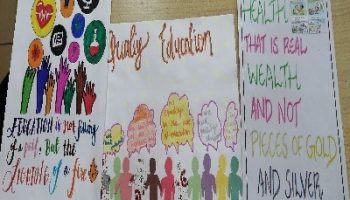 The students from grade 5 to 8 also had fitness challenge lead by HOD of Co-scholastic Mr. Vijesh and PE Instructor Ms. Arya. The challenge given to boys was push up challenge and girls were challenged with plank.
SDG Goals will be taken forward with the curriculum and with pastoral activities as well.
Reported by
Deepika Pathak
Teachers' Orientation
Knowledge is limited but ideas and imagination is unlimited.
The new term began with an intensive and thought provoking session for the staff. Session began with the introduction of the new Principal, Mrs. Abhilasha Singh who started her day with a training session for teachers on Lesson Planning after her welcome note. The main focus of the session was changing mind sets of teacher and parent to make themselves relevant for 21st century. As foundation of every teaching is to introduce critical thinking in children which is one of the basic twenty first century skill. The SDG (sustainable development goals) were introduced to the teachers with the largest lesson plan, with the interesting activities and called upon everyone to do their part in saving the earth.
The session ended with thought provoking videos related to SDG. The staff were inspired by the session and were charged up to begin the new term with a new mind set and a futuristic vision of dealing with students entrusted to them. Adding onto it online YouTube streaming of fit India Program which was launched by the Indian Prime minister saying the initiative is the need of the hours and will take country towards healthier future was done and oath was taken to remain healthy. Further during NIWD days open door an external training house were called in to introduce teachers with making the assessments productive and understanding its importance.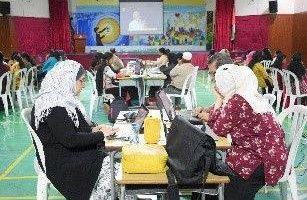 Teachers' Day
'Teachers are our greatest public servants: they spend their lives educating young people and shaping the nation for tomorrow'.
Teachers play a very important role in our lives. They help us to become successful in careers and businesses. They shape out good human being in the society and good citizen of the country and that is why the 5th of September the birth anniversary of Dr Sarvepalli Radhakrishnan an eminent teacher and statesmen is celebrated as Teachers 'Day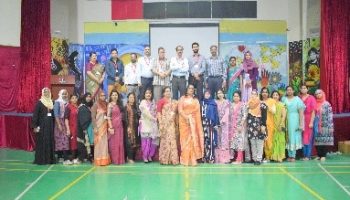 This year the theme for the teacher's day was 'Vintage meets Modern' a retro theme. Teachers were requested to come dressed as they did during their college days, to help them get an opportunity to relive their youth. Games were conducted for the teachers and prizes were given to the winners, soon after the games concluded. The teachers also took active part to show that they are the real beauties with brain through ramp walk. The day came to an end with the scrumptious lunch hosted by the school.
Reported by
Aisha Akbar Muhammad
Editorial Committee (Student Council)
Onam celebrations
SSIS celebrated the spirit of harvest festival in all its splendour on 11th September 2019 at the school campus. The school organized Sadhya for the staff. The pookkalam (flower rangoli) was decorated, the Atthachamayam (traditional folk song and dance) was performed by the teachers. It was a perfect moment when everyone had a feast together because the family that eats together stays together.
Investiture ceremony
"Leaders are not born but are made by their experiences in life". To inculcate the leadership skills in the students and to give them a feel of functioning of the administrative body, a student council was formed after an elaborate selection and interviewing process.
The Investiture Ceremony for the academic year 2019-20 was held on the 18th of September 2019. The ceremony began with the recitation of the holy Quran followed by its translation and the national anthem of the UAE.
The newly elected student council members pledged to work earnestly and uphold the honor and glory of the institution while receiving their prestigious badges and sashes from the Vice Principal Mrs. Anita Singh and the Head Mistress Mrs. Ramla Ashraf.
The newly elected council once invested with badges, took the Oath led by the Head Girl and the Head Boy…
Later on the Head Boy and the Head Girl gave an election acceptance speech.
Finally the Vice Principal motivated the children to keep moving forward despite all the obstacles and challenges that life throws in front of us. She also said that being a leader is a vital role and that the new Student Council would have ample responsibilities to shoulder.
Reported by
Aisha Muhammed Akbar 9 A
Editorial Committee (Student Council)
Literacy workshop report
The information literacy workshop held at Fairmont, Bab Al Bahr, Abu Dhabi, was an interesting one, where all the librarians across UAE were present to seek information about various reading strategies they can imply in their library lessons. It was a wonderful workshop to go to, most of the Heads and Language teachers attended and shared their ideas too that they are using within their lessons. The interesting part of the event was to build a foam board platform to hold maximum number of books, which was a part of the team building activity. However, the interesting part was the conversation with the previous year's winners. The winners shared their experiences of conducting the library lessons and various reading activities that they do to instil reading skills amongst the students.
Adapted from the report by Ms. Renu
Language week
No culture or race can progress without the knowledge of language. It's a soft skill that has kept cradle of human civilisation rocking. Language is the best medium of expression of thoughts as well as emotion. In the same tandem and as a part of language week celebration Hindi divas was celebrated on 15th September 2019 at the campus followed by Malayalam, Urdu, Arabic & English subsequently. The main objective of the event was to promote the importance of languages in our day to day life.
Be it reciting the poem in the languages, to speaking about the importance of these, to that of presenting skits and dance performances representing the culture across the world.
It was good to see students performing on one of the famous comedy shows "Mind Your Language", which the audiences wanted to watch again. It was fun to have the languages specifically focused across the week, and students actively participating in all the activities!!!
Al Ain book fair
Students of SSIS from Grade 5-8 visited AL AIN Book Fair on 25th Sep 2019. The Al Ain Book Fair celebrates Emirati writers and their work, and also delivers a programme designed to inspire creativity and a love of reading among young people in the United Arab Emirates. The cultural programme offers visitors an opportunity to meet and hear from a number of the UAE 's most influential authors all gathered in one place.
With a focus on children, the fair offers a series of themed workshops for children. Titled 'Creativity Corner', the workshops encourage learning, ingenuity and creativity in art, science and language. Session range from science experiments to creating comic book character costumes. This event offers an opportunity for the students to interact with the finest Emirati writers, and gives a platform to engage young book lovers. More over the fair bookstore offers for sale thousands of Arabic, English and Foreign-language titles in the fields of science, literature, history, and education as well as children's book. It was really informative and children enjoyed a lot.
Sheerona Nazar
TGT English
Career Talk
On 23rd September, 2019, we had Mr. Sunil Shah, a renowned Career Counsellor, at Shining Star International School. He has about 22 years of experience and has helped more than 25k students and parents to make their career choice and to find the best suited college. At SSIS, Mr. Shah addressed all the students of grade 11 and 12.
"Be Happy!" Mr Sunil Shah started our career session with those words. Instantly grabbing our attention, he started telling us how we shouldn't stress out about any decision that we take. He told us how it is completely normal to be confused about our career plans after high school and encouraged us to understand ourselves first and then decide our career plans.
The session really helped us understand that we should take our decisions with a positive mind-set. It made a huge impact on our way of thinking for the future. It motivated us to have new experiences, do the things we love and have no worries. It also taught us how or in what ways we can pursue our first choice careers.
Reported by
Annette
School Counsellor
Career Fair
On 19th September, 2019, 30 of high school eager and excited students accompanied by 2 teachers visited the career fair at Sunrise International School, Musaffah, Abu Dhabi. It was an educational trip, where they learned about various colleges and Universities that students could join after completing the school.
The college presenters explained to the students the various courses they had to offer and the requirements for admission in their college/University. There was a small quiz for the students and our students won some exciting gifts and prizes too.
The students had a learning experience and broadened their perspective about courses, colleges, Universities and requirements around the world.
Reported by
Annette
School Counsellor
KG Corner
BACK TO SCHOOL REPORT-KG
The school reopened after summer vacation on Sep 1st 2019. Classrooms were decorated to welcome back the kids after a long break. Kids were so excited to meet their friends and   teachers.
During circle time teachers asked   the kids to share their experience of how they spend their summer holidays. All KG students assembled in the auditorium for small celebration. A warm up session was held by Ms. Sudha.
Students were given opportunity to dance on songs like 'Baby shark dance', Minion banana dance 'I like to move it etc. Program concluded by chicken dance by all KG teachers.
Kids really enjoyed the program. Teachers did welcome back activities in their respective classrooms and each child was given a 'take away' which they had prepared during the class activity. All kids enjoyed their first day after summer holidays by playing music, dancing and fun filled activities and happily went back to home.
Reported by
Nithya Sasi
KG Teacher
Teddy Bear Day
On September 9th, National Teddy Bear Day honours the history of one of childhood's favourite toys. The teddy bear is one of the most popular toys for children, and holds a special place in many adults' hearts, too. Today teddy bears are a popular toy for children of all ages. The stuffed toy has also become a part of children's literature and movies and popular culture.
On Monday 9th September 2019 Teddy Bear Day was celebrated in KG 2. All our children actively participated in this celebration with the help and the guidance of their form room teachers. Students of each class made different teddy bear using colour papers, paint and charts. Students of each class made a beautiful circle by sitting with their teddy and enjoyed their breakfast.
This celebration has helped a lot in generating feeling of love, care, excitement and affection in our children. It was really a memorable day not only for children but also for teachers.
Reported by
Binu Mohandas
KG Teacher
Ozone day
Ozone day was observed on 16th September with students participating in various activities enhancing the importance of the Ozone layer. Special assembly was conducted with the theme of Ozone day. Relevance of ozone layer and the necessity to preserve the ozone layer was discussed in the assembly.
After the assembly each class conducted different activities on the theme including poster making, craft making of earth and ozone layer, painting, etc.
Later in the class videos on the ozone layer protection was shown to the students. A rally was conducted by both KG1 and KG2 students. Different slogans were recited in the rally.
Reported by
Sudha Suresh
KG Teacher
COLOURS DAY
Every Thursday is a day of different colour for the students of KG section. This is celebrated to enhance the importance of colours in our lives.
Children wear a dress of the particular colour of the week and bring any object/toy of the same colour.
During the circle time each child talks about their object/toy that they have bought. The class activities for the entire week are also based upon the same colour for the week to help children know more about it. Children have a photo session at the end of the day which adds on to the class photo collection for them to cherish forever.
Reported By
Fathima Sana
KG 1 Coordinator
Parent Talk
I am very satisfied with the schooling of my child. As I find the administration and staff very co-operative and understanding. The facilities provided are excellent. The extra-curricular activities help to boost the talent of the children.
Children participate in various activities which help boost the confidence of the child, all together balancing their academic achievements. I find the transport system safe and punctual. Overall I am very happy with the development of my child as a person and as a student.
Parent of Barira Taj
9 A
Student Talk 1
"The path to success is always achieved when we have Dream, Determination and Dedication"
I would like to thank all the management, teachers and students who have believed in my abilities to lead the school.
To be appointed as the Head Girl of Shining Star International School is a great honour. For me it brought both a sense of pride and responsibility and the opportunity to serve the school fills my heart with greater happiness.
To every student, I would like to say that grab all the opportunities that come your way and make the school flag flutter high. The future depends on what you do today, learn from yesterday and live for today. I feel extremely grateful to have benefitted from the management here at SSIS and the care the teachers hold for every individual, thus helping us to cross all the obstacles and leap forward on our education journey.
Aishwarya Nitin
Head Girl
Student Talk 2
First of all, I am both humbled and honoured that everyone has placed their confidence and supported me by electing me as the editorial head. From the first day I arrived at Shining Star International School, I knew I wanted to become more involved. From serving as the Student Relation Officer last year to becoming the Editorial Head this year, I feel blessed as I begin this new journey and I assure you all that I will try my best to make it a memorable one.
For me becoming the editorial head of our school is no small feat and with it comes great responsibility. I also think that joining our school newsletter might give me the chance to read and talk about the work of others. I believe the school newsletter is a symbol of pride and a miniature representation of the school. I feel it is the best way to unfold the unravelled world of the most unforgettable and precious moments of the school.
Last but not the least I am really thankful to everyone for entrusting me with this responsibility and promise to work tirelessly to fulfil it.
Aisha Muhammad Akbar 9 A
Editorial Committee
(Student Council)
Teacher Talk
I believe that imparting education and wisdom has been the noblest of the creeds adored since civilization embarked, and am proud to be a zealous faithful part for a combined goal shared by the vision of the school management. I feel working here in SSIS has improved my skills as a teacher and view education as a holistic process for preparing the students to face the future.
Mrs.Anjum Safdar (Urdu Teacher)