Meet the Principal
We extend a warm welcome and proudly introduce our Principal Mrs. Abhilasha Singh an educationalist from India, who's having decades of rich experience in leading various educational institutions. She is an army officer's wife, an ambassador of Teach Sustainable Development Goals, Model UN trainer and an enthusiastic sportsperson. A national player in the game of basketball, hand ball, now her passion is squash, swimming, cycling and running Marathons.
As a leader, she strongly believes in the holistic development of students and staff. She wants to ensure that SSIS becomes a rich learning experience for SSIans so that they always remember school as the best days of their lives.
She is a strong supporter of Global classrooms and has recently introduced Microsoft e-learning for the staff. She is a motivational TEDX and GESS speaker and echoes for global issues. She has recently introduced UN SDG (sustainable Development Goals) in the campus and further focused on creating MUN (Model United Nations).
Highlight of the month
SSIS came across a brilliant opportunity to participate in the Climate Action Project founded by Koen Timmers under UN Foundation which has Sustainable Development Goals as its heart.
#SDG 13 -Climate Action Project takes into account the anthropogenic activities responsible for the depletion of natural resources and the importance of these resources for our future. Students started with knowing the difference between Climate and weather and how climate gets affected due to the burning of fossil fuels and leads to Global warming.
The students collaborated to think of viable solutions to save earth from the detrimental effects of climate change. We are extremely fortunate to have had the experience of this international collaboration with more than 10,000 students from around the world participating in the Climate Action project. We have also pledged to plant 1000 trees this year and pledged to walk/run/cycle instead of using a car to reduce our carbon footprint.
Lead by Mr. Vinay Pandit & Mrs. Deepika Pathak
Career Fair
Bringing in real-life professionals to talk about different careers is an excellent way to help connect learning to life, keep students engaged and help them make the right choices.
A career fair was organized on the 10th of October 2019 in the school auditorium for the students of Grade IX to XII. Seven institutions and various universities participated in the fair like Abu Dhabi University, American University of Sharjah, Amity University, Heriot-Watt University, Qadri International Educational Consultancy, Schiller Language School, UNI Student Academic and Study Abroad Services
It was open to teachers, parents, and students of Shining Star International School and the neighbouring schools within Abu Dhabi. The Career Fair aimed to enlighten students about the whole range of career options available in the UAE and abroad. It gave students and parents a chance to talk directly and know about the skills and education needed for the career they will be opting for. They interacted with the institutions to hear what they offer and understand the different procedures as well as the requirements for admissions.
Overall the participation and enthusiasm of everyone made it a great success.
Aisha Mohammed Akbar
(Editorial committee)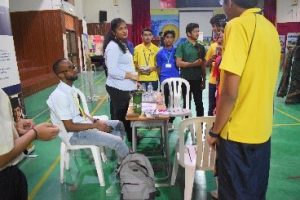 Hack in The Box Cyber Week
"As the world is increasingly becoming interconnected, everyone shares the responsibility of securing a safe cyberspace."
Keeping that in mind a trip was organized on the 13th of October 2019 to attend the HITB -Cyber week held in the Emirates Palace, Abu Dhabi for the students of Grade 9 to 12.
Hack in the Box (HITB), known for its cutting-edge technical talk and training in cyber security, launched its biggest global event in Abu Dhabi, UAE from 12-17 October 2019. It brought together the world's top thinkers and cyber security experts to share their latest knowledge ideas and techniques. It featured top cyber professionals as well as students, teachers, and families. HITB+ Cyber Week delivered a lineup of 100+ activities including the highly-anticipated Cyber Battle of the Emirates (CBOE) and Pro Capture the Flag (PROCTF) tournament. Attendees also enjoyed presentations from the 'best of the best' speakers and gained knowledge through a series of training labs.
There were highly interactive and immersive competitions, presentations, training classes, workshops, and demonstrations.
Dillon Kannabhiran, Founder and CEO of Hack in the Box, said, "We live in a digital world that's changing fast. To solve the next generation of cyber security problems, we need to act now in developing the next generation of cyber security warriors."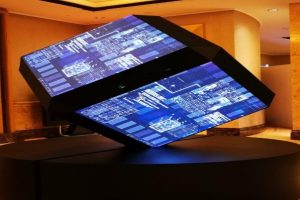 World Food Day
'Creativity is inventing, experimenting, growing, taking risks, breaking rules, making mistakes, and having fun.'
World Food Day is observed on 16th October every year. The Poster making competition was held on 17th October 2019 that illustrates the idea of what needs to be done to make healthy diets available for everyone and how each of us can improve our diets.
Young minds were inspired by World Food Day Co-Curricular Activity that shows why healthy eating matters and how everyone can come together and take action to achieve better nutrition and #ZeroHunger
Deepika Pathak
Pink October
Breast Cancer Awareness Month (BCAM) is a worldwide annual campaign taking place in October, involving thousands of organizations to highlight the importance of breast cancer awareness, education, and research.
To raise awareness among of the Parents, Staff & Students, a session with Dr. Deepa, a gynecologist from LLH Hospital was organized on 29th October 2019 in the school auditorium. It enlightened everyone about the importance of early screening, tests was a very informative session.
Finally, to conclude the event, a medical checkup was conducted for everyone by the team of LLH hospital.
Aisha Mohammed Akbar
(Editorial committee)
Business Professionals Education Centre
Variety Business Professionals Education Centre is an educational institution established in 2003 which provides a variety of programs and courses for Abu Dhabi community. SSIS was pleased to welcome professional teachers and a student from BPEC on 24th October 2019. The students were given a brief introduction about BPEC and the programs which they offer. BPEC is recognized nationally as well as internationally.
A student from the institution gave a brief introduction about his book in which he motivates everyone to be their best in life and also shared a few tips on how to be your best. He also shared about how BPEC had a positive impact on him and helped him to develop skills. The session ended with a few inspiring words by a teacher from the institution.
Barira Taj
(Grade 9 A)
Health and Safety
Abu Dhabi ports launched its third annual Health, Safety and Environment (HSE) Week 2019, at Abu Dhabi Cruise Terminal, from Oct 22nd to Oct 24th 2019.
Under the theme "TOGETHER FOR A BRIGHT FUTURE", the campaign strongly focused on a range of activities and show cased some of the latest inventions & equipment used in risk management, HSE, first-aid, emergency services and home safety.
The campaign was launched in cooperation with many government agencies & strategic partners as well as schools & universities. The campaign's aim was to raise the community awareness about risk management (CSR) to maintain the safety & health of individuals.
SSIS organized a trip for selected students from grade VI TO IX , on 24th Oct. The trip was successful and the objectives were achieved. Students learnt something new & beneficial in the field of Health & Safety
Aisha Mohammed Akbar
(Editorial committee)
Youfest 2019 South Zone Inauguration
Youfest is a cultural extravaganza to identify talent amongst the Indian Expatriate Youth in various Indian Art Forms across all Emirates.
On 15th October 2019, the 4th season of Youfest was officially inaugurated in the Abu Dhabi zone in SSIS. Youfest aims at bringing out the talents of students across the UAE. SSIS was proud host of South Zonal Youfest 2019 and in future too,SSIS will be organizing the program in the Abu Dhabi zone. The honourable guest of the event was RJ Mithun, a famous RJ in UAE who has been previously ranked as the best Radio Jockey of UAE. He held an interactive session with the students and provided them with an opportunity of showcasing their talents on stage. The students actively took part in the activities and the winners were awarded the prizes
Aisha Mohammed Akbar
(Editorial Committee)
Book Fair
"You can't buy happiness but you can buy books and that's kind of the same thing."
Books are uniquely portable magic and to encourage the reading habit among students, a trip to the 4th largest book fair, the Sharjah International Bookfair was organized for the students of Grade 8 to 12 on 31st October 2019. In celebration of the Sharjah World Book Capital 2019 title, the theme for this year was 'Open Books. Open Minds.'
The students had an interactive session with America's celebrated TV host and comedian Steve Harvey. He motivated everyone and said " that you are bound to fail many times, but you have to fail to be successful." The event also featured a lineup of book signing, workshops, poetry readings, panel discussions, etc.
It was a wonderful experience for the students and its aim was to encourage and inculcate the love for reading among them
Aisha Mohammed Akbar
(Editorial Committee)
Student Talk
Shining Star is the turning point of my life which has given it a beautiful outlook. I am always thankful for this institution for supporting and being my constant companion. I have been learning in this school for the last five years. I am happy to say that I have witnessed too many big and positive changes that have happened until now. Not only the students and teachers have brought a smile on my face but also each and every nook and corner of the school bears positivity. Every classroom in this school has an awesome story to tell. I strongly recommend this school to everyone who wants to find the 'Beauty of Childhood'.
Saniyah
Grade 8A
Parent Talk
I am honoured that my daughter is studying at Shining Star International School. The school has made her learn many new things. I am glad that my daughter garners confidence to participate in all the activities that are conducted in and out of the school. I have seen a lot of improvement in her academic performance. The school has wonderful teachers and students and I am very proud that my daughter is one of them. I strongly recommend this school to others.
Parent of H. Fareeha Grade 9
Teacher Talk
I joined this renowned organization back in October 2017 and feel I am so fortunate to be working with Shining Star International School, Abu Dhabi. I enjoy every opportunity I'm given to connect with educators. I admire and I actively participate in teaching groups. It's my way of contributing to this wonderful global exchange of ideas. The curriculum is thematic in nature based on national standards and influenced by the UAE vision and student body. Curriculum maps are used to facilitate integration between disciplines. Each core area is guided by a set of outcomes generated from the best available standards. Students can thus progress at an appropriate pace, accelerating or remediating as needed. Learning about the scientific process and the science concepts in context allows students to understand the role of science in the world beyond school. I would like to deliver my full potential to this organization to achieve the management goals as well as quality education for the students. I have experienced many new ideas and concepts. I believe there are a lot more to come.
Ms.Remya
Form tutor VI-C