UAE Exchange UAE Open Athletic Meet -2020
Students of Shining Star International School participated in the UAE Exchange-UAE Open Athletic Meet -2020 conducted by Abu Dhabi Malayalee Samajam. The meet was held at Armed Force Officer's Stadium. 350 participants from different schools, clubs, and academies in the UAE participated in the competition. Competitions were conducted as per age group categories; below 6 years,6 to 9,9 to 12,12 to 15,15 to 18, above 18 and for veterans. All the competitions were conducted for Boys and Girls separately. 23 Students from our school won prizes in 14 events. Our school medal count was at 2 gold, 7 silver, and 5 bronze at the time of closure.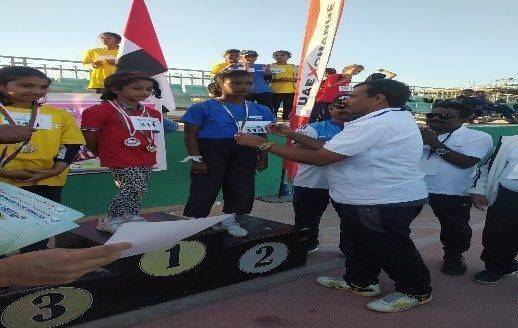 Reported by
Mr. Vijesh
HOD Co Curriculum
Middle East Youth Expo- 2020
Students from Grades 8,9 and 11 visited Mubadalla Arena, Zayed Sports City, Abu-Dhabi, where Youth Expo was conducted from February 3rd to 5th. Our students were part of the Award distribution, where 'Young Leader of the Year Award' winner of 14-17 age group was Arjun Mallya (Indian) and the 'Global Citizen Award' was given to Antony Ford for his service in education for the disabled African Kids.
The main discussion amongst the youth was to meet Sustainable Development Goals, Climate change, and its global impact. Sally Earthrow, Expedition Mission Leader, discussed how plastic has drastically affected the Aquatic life and killed millions of fish. She presented the topic 'Seas of Plastic'. Our students also got an opportunity to explore the Exhibition area with the number of stalls highlighting Emirati culture; the spices, the dresses, etc. There were stalls of various colleges and universities displaying their talent in Painting, Fashion designing using waste materials including plastic. The Expo was fascinating and the students gained a lot of learning experience.
Adapted from the report by
Ms. Fabitha
Bring Heart into Teaching
"I think that the best thing we can do for our children is to allow them to do things for themselves, allow them to be strong, allow them to experience life on their terms, allow them to take the subway… let them be better people, let them believe more in themselves."
― C. JoyBell C.
'Bring Heart into your Teaching' session was addressed by Ms.Anja Geelen. The session was about creating memories which leads to growing a child`s heart. She broke the ice by asking certain questions ; how many candidates present in there ever had enjoyed these activities in their childhood like making a chain of daisy rose, climbing a tree, jumping into a mud puddle, toasted marshmallow, slept under the open sky. She enquired that if teachers were creating enough opportunities for kids to do such things nowadays. We are old enough so we have these memories of our childhood. She further encouraged teachers to create memories that can go to heart bank of kids and safely deposited there and of which they can be nostalgic about in their future.
Furthermore, she addressed the teachers on the concepts of knowledge, wisdom and the difference between the two. She suggested- 'to bring heart into teaching focus on three elements: Tank Filler, Ally, Be a Match Maker.
The session concluded with a quote from her "A child from 400B.C is the same but the hood is changing" and that the teachers will have to adapt to these changes to develop the 21st century skills amongst the students.
Adapted from the report by
Ms.Ifrah (ELT)
Three Language Competition
'Language plays a vital role in our lives. Language is a medium of expression.'
Three Language Competition was organized by Abu Dhabi Indian School, Muroor. Students of SSIS participated in the competition representing three different languages focusing on the UAE's vision-2021 working in harmony with sustainable goals.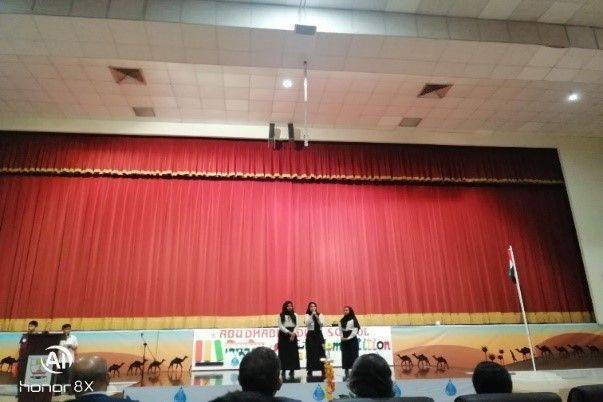 Students expressed their views on the given topics given on spot in three different languages i.e. Arabic, Hindi and English.
It was an experience full of learning as it enhanced the confidence level of students and gave them the memory of a lifetime and was great platform for learning.
Adapted from the report by
Ms. Priyanka Pandit (ELT)
Library Lovers Day
Nothing is pleasanter than exploring a library'
Library lover's day was celebrated in our school with much fervour and enthusiasm.
Many activities were organized during a special assembly conducted by students across all grades. The glimpses of activities done in the library as part of LSRW skills were showcased along with the thoughts of the Shining Stars ranging from students to all our SLT members who expressed their love of reading. They became nostalgic and reminisced reading books sitting in the library during their school days.
It was a wonderful event which concluded with the Library Oath taken by all the staff and students.
Reported by
Ms. Renu Mehta (Librarian)
Graduation Ceremony
'"Intelligence plus character—that is the goal of true education." —Martin Luther King Jr.
Shining Star International School organized its 'Annual Convocation' to celebrate the success of its 2019-2020 graduating batch. Senior students achieved another milestone in their lives-completion of school and moving on to college. To mark this important phase in their life, the Graduation Ceremony was held in the school auditorium. The event was graced by the senior leadership team, the Principal Mrs. Abhilasha Singh, Vice Principal Mrs. Anita Singh, Head Mistress Ms. Ramla Ashraf, Heads of all the departments, teachers and the proud parents of the grade 12 students.
Grade 12 students clad in their ceremonial graduation gowns walked down the aisle with pride and happiness. The function commenced with the traditional lighting of the lamp followed by a motivational speech by the Principal, where she urged students to remember their parents and teachers while pursuing new careers. She emphasized the importance of schooling and the role of adequate skills and knowledge which is essential to excel in everyone's career and life.
The school Head boy, Mohammed Razal and Head girl Aishwarya Nithin in their valedictory speech spoke about their journey in the school and as head of the Student Council. Grade 12 graduates were felicitated with scrolls and customized hoodies as a memento to cherish for life.
Just to make Graduation Day more meaningful, students of Grade 11 dedicated a short video capturing their childhood photos and moments spent by Grade 12 in their tenure in the school.
It was a moment of pride and honour not only for the students but also for all the parents, teachers and well-wishers.
We wish the very best for all our students for their bright future ahead.
Reported by
Lakshmi Soman
School Counsellor
GESS
Opportunities if provided, should always be utilized.
Our school Principal Mrs.Abhilasha, along with the English, Science and Islamic Studies department visited GESS, Dubai. It was a wonderful event that provided an opportunity to interact with various people ranging from curriculum design specialists to AI, Robotics, etc., who shared their expertise to use the products designed by their companies to meet the needs of the 21st Century learners.
The event had different workshops, where speakers from across the schools of UAE presented their STEM/STEAM-based skills and practices which can be embedded in our day to day teaching and learning.
Reported by
Ms.Afreen
HOD-English
SDG & MUN Session at GESS
Principal Mrs Abhilasha Singh presented a session on "How SDG & MUN (Model United Nation) can create an impact'". She explicitly explained, why SDG's should be taught in school and how classroom used play a significant role to teach social cause for a social good.
The session was very well received as the audience lauded the Model United Nation platform for students' skill development. The presentation highlighted the use of various tools of education technology to support Teaching & Learning, empower students' voice and connect to the world.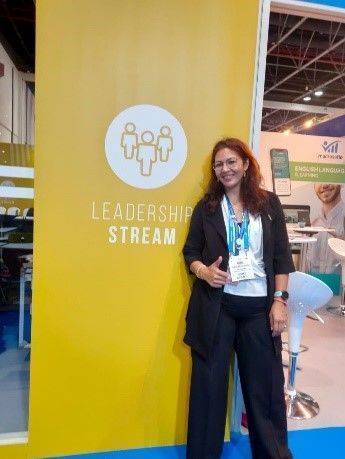 Cans Collection Campaign
A can collection campaign was initiated by our school, where parents contributed by sending cans for recycling. Since the students are well aware of the importance of recycling; they encouraged their parents and participated by bringing as many cans as they could for recycling. This initiative is conducted by EEG (Emirates Environmental Group) every year.
We collected 8Kg Cans within span of two weeks and handed over to them and they were impressed with the school's participation and expressed their interest in continuing this drive with our school in future as well.
The authorities appreciated the schools who are always a part of the initiatives that help in preserving the world's environment.
'Individually we are one drop, together we are an ocean'.
Adapted from the report by
Ms. Natasha
Plastic Bottles Campaign
The mime conducted at Dalma Mall as part of 'Simply Bottles' awareness program where students of Primary and KG actively participated was a huge success. The objective of the campaign was to spread awareness regarding the detrimental effects of using plastic bottles. In this campaign, we used various posters made out of recycled materials. Our school presented the show at the mall thrice in different time slots.
Through this show, we made people aware of the recycling of plastic bottles and preventing it from going to landfill. People appreciated the efforts of the students and encouraged the initiative taken by our school.
Our students used the banners which demonstrated the recycling steps of plastic bottles and also gave a message on 'making trash to treasure', some items were displayed as samples.
Parents showed their support as audience during the show at the Mall.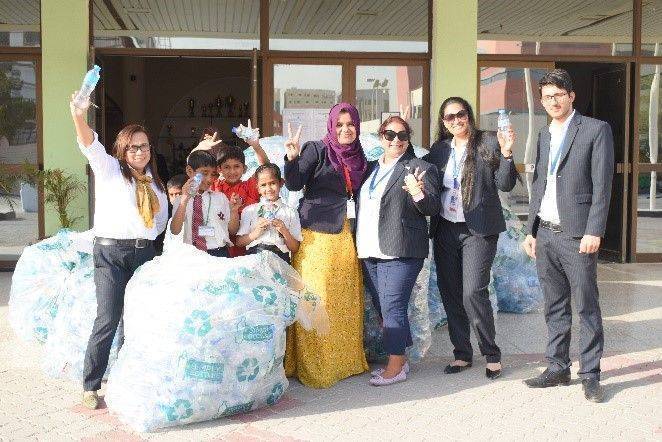 SAY NO TO PLASTICS!!! if you cannot REUSE and RECYCLE plastic –REFUSE – it.
Adapted from the report by
Ms. Afnitha Salahudeen
Inauguration of Toastmasters at the Campus
Toastmasters club was inaugurated with a welcome speech by our respected Principal Mrs.Abhilasha Singh along with the Director of the Abu Dhabi chapter Toastmaster Mr.Devlal Sahadevan who spoke about 'Why Toastmasters: an education session for the staff , students and parents.
The session was very well conducted following a step by step procedure of how a Toastmaster Club functions. With the Gaveliers, who are the students below 18 years and various Toastmasters from the Abu Dhabi chapter, audiences were enthused to see how this club works, and the way a person's confidence and morale can be boosted. Two of the Gaveliers' speeches were wonderful; they represented the rules to be followed as part of the Toastmaster's club members. Our staff, students and parents enjoyed the session thoroughly. This concluded with the vote of thanks by Assistant Head boy Fahim of Grade 11.
SSISians are looking forward to be a part of this wonderful club!
Reported by
Ms.Afreen
HOD English