Shining Star International School has an academic environment which treats each child as a unique individual and helps reach their maximum potential. In today's dynamic global scenario the school believes in encouraging students with a learning experience through practical approach towards learning. At SSIS, we understand, learning is an important resource for the child's social behavior and personality. From foundation stage to the higher grades students inquire, explore and develop knowledge, skills, character and attitudes that help them in their lives now and in the future.
SCHOOL CURRICULUM
The school curriculum is in accordance with the guidelines of the CBSE and is followed through NCERT textbooks. The new academic year for all classes begins in the month of April and closes in the month of March. Equal weightage is given to academic and co-curricular activities, ensuring the holistic development of a child. Apart from the general education program we also organize regular workshops, educational tours and excursions for our students.
EXTRA CURRICULAR ACTIVITIES
SSIS is constantly striving to provide ample opportunities to the students and help them to develop and express their creativity and showcase their immense talents before the world.
International Yoga Day Celebration
Yoga is a key to the holistic growth of mental and physical health. International Yoga Day was celebrated with great enthusiasm as the students enjoyed the asanas, breathing exercises and hearty laughter of relaxation.
Quran Recitation Competition
The Quran recitation competition was conducted for students of Grade 1-12. Students were excited and ready with the Suwar, and they participated with great enthusiasm. (Date: 4th May 2017)
Inter-House Football Competition
Healthy competition is what sports promotes and it was indeed when the students played against each other during the competition. Students enjoyed playing games like football, carom board and obstacle race etc…. Their patience and brain power were put to test in the Inter-house chess competition.
After School Activities
Learning has no boundaries! SSIS has introduced a bunch of fun & learning after school activities for the students. Some activities are for FREE, whereas the exclusive ones come with a small monthly fee. The school has coaching sessions of Football, Martial Arts, Cricket, Abacus Maths, Basketball, Yoga, Dance, Music, Art & Craft, Chess, Language, Photography, Literary and Vocational studies.
Best out of waste competition
With the mission to reduce, reuse and recycle consumed waste into best and conserve the environment, the kindergartners donned a creative hat and came up with beautiful hand-crafted items. All were amazed at seeing their imagination and creativity. It's truly inspiring to see how with little help from the parents our little ones have transformed egg shells, discarded papers, old newspapers, used plastic spoons, cotton, straws, carton boxes, used plastic bottles, cans, threads etc into sheer beauties. They were an inspiration.
World Art Day
On account of World Art Day, a coloring competition was held for the kindergarten section. All children displayed their coloring skills. They painted their favorite cartoon characters.
Inter-school Scratch Competition
Under the sponsorship of ADEC, Abu Dhabi University invited all schools to participate in the fourth Inter-school SCRATCH Competition. SCRATCH is a visual environment that teaches students how to program computers in visual easy, entertaining and engaging way as used by top most schools worldwide. The long-term goal is to promote STEM (Science, Technology, Engineering, and Math)
Date: 23rd May, 2017
AWARDS & AFFILITATION
Winner of 'Love You Mom' Art Competition at Dalma Mall, Abu Dhabi
SSIS students participated in drawing and painting competition held at Dalma Mall, Abu Dhabi on the occasion of Mother's Day celebration. Several schools participated in the same. SSIS's student Ms. Jasmine Varikkodan bagged the winner's position. She made a brilliant painting on the given topic 'Love you Mom', depicting beautiful emotional bond of mother and a child. She made the school feel proud.
Third position in the Inter-School Public Speaking Competition by EEG
The Inter-school public speaking competition 2017 was hosted by EEG. Five students of SSIS participated in the same. The topic chosen was 'The Future of the Power' and the students competed against 15 more schools and grabbed the 3rd position in the competition.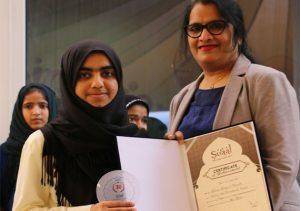 FIELD TRIPS
Field Trips
SSIS carefully designs its field trips to give its students an entertaining and educational experience. The Teachers closely monitored and supervised the all students. They go back home with a memorable experience, and numerous stories to share.
A trip to the Zoo for the tiny tots
Kindergarten tiny tots had the pleasure to visit Emirates Park & Zoo, Abu Dhabi. They thrilled to see the animals in real and enjoy the practical depiction of animals in their textbooks. This trip was aimed at creating a connection between the members of the young community with the natural habitat as well as encourage the children to preserve environment and ecosystem; by instilling in them values of animal welfare from a very tender age.